CROWN OF LIFE LUTHERAN CHURCH
We believe that you are a trophy of Jesus' work, and so is everyone else!
Join us and discover how our lives have changed because of Him.
Our Worship Services
The Bible talks a lot about meeting with other people to worship God by learning about Him, praying and singing together. There are lots of ways and times to do it, but we believe that attending one of our weekend worship times is the best way to get connected and to take part in what God is doing at Crown of Life.
Meet Our Pastor
My wonderful wife, Erin, and I were married in 2011 and its been a whirlwind since then. We came to New Orleans in 2013 and have come to love the city and the people who make their homes here. We have two young children and they are New Orleans babies through and through.
There are so many opportunities to share Christ and his love with our city and I'm privileged to be a part of it. My prayer is that we can reach out to our community in a way that reflects the love Jesus gave us.
About Pastor: Jonathan Kehl graduated from Wisconsin Lutheran Seminary in 2013 with a Master of Divinity degree. During his schooling he had 8 years of Greek and 5 years of Hebrew, giving him the ability to study the Bible in its original languages. The third year of seminary he interned at a church in Johnson City, TN.
From there he would complete his final year and then was called by Crown of Life New Orleans to be our Pastor.
Favorite Bible Passage:
Job 19:25-27
Church Council
Seth Sternhagen
Ambrose Francois
Richard "Rick" Tallant
Michael Phelps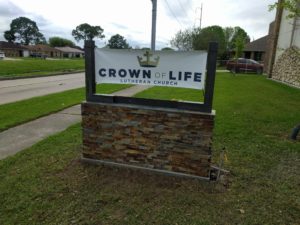 President –
Quiana Sternhagen
Vice President-
Marigold Carter
Treasurer –
Gretchen McKinney
Secretary –
Erin Kehl