Bacchus Parade Cookout
Join us this February 23rd right after church for our annual Bacchus Parade Cookout. Burgers and hot dogs will be provided. Bring a snack or dish to share, drinks, chairs, ladders if you have kids. We will bee meeting at the corner of Napoleon & Annunciation. We can't wait to see you there.
Contact Gretchen or Pastor Kehl with any questions.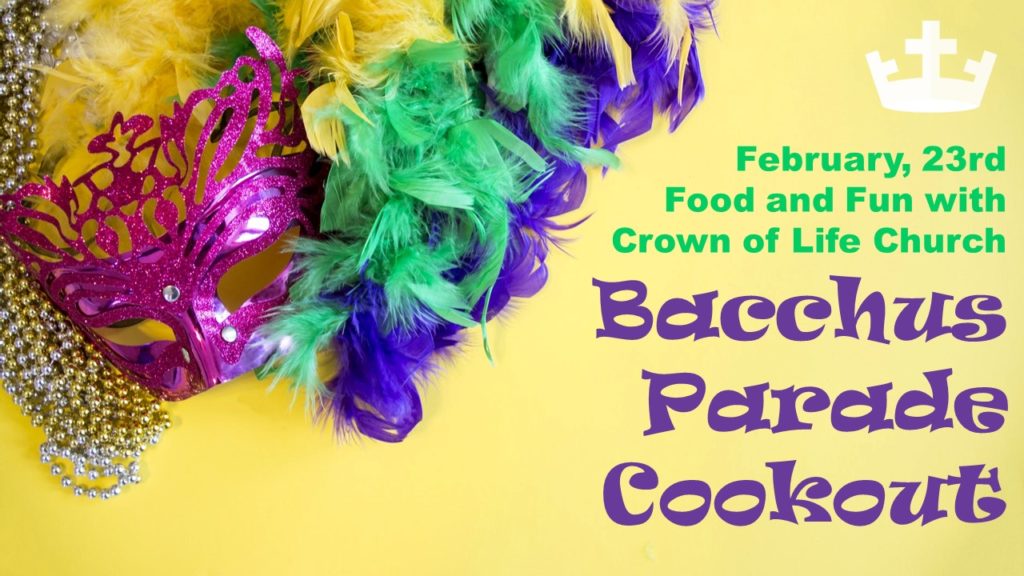 Ash Wednesday
Worship at 7:00pm Feb 26th. Families can take a break from making dinner and join us for a soup supper before starting at 6:00. The practice of placing ash on the forehead or hand of believers is a public expression of repentance and recognition of our human frailty. It forcefully reminds us of our need for redeeming grace that comes to us through Christ's death and the joy of life we see in the Easter Resurrection.
Crawfish Boil
Join us for our annual crawfish boil with live jazz band March 29th. Our church family invites you to celebrate with us in worship starting at 11:00 and after with fresh boiled crawfish and fixings. Tickets are available for $10 for adults. Kids 10 and under are free! Tickets must be ordered in advance to reserve a spot. Contact Pastor Kehl for more information.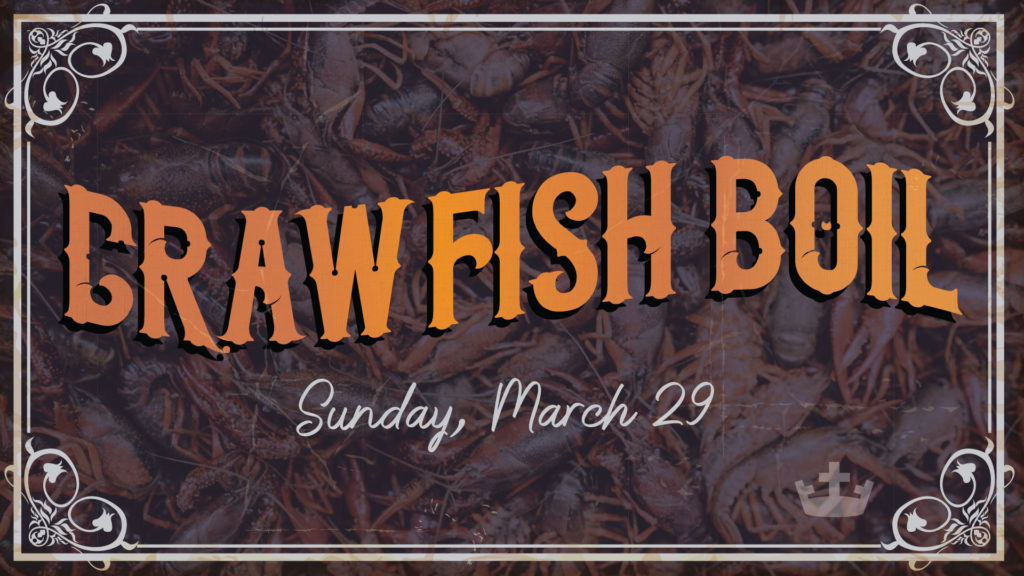 Vacation Bible School
At Crown of Life, we host events for people of all ages. We recently held our annual Vacation Bible School for the children in the community.
Family and Friends Day
Crown of Life recently held our annual family and friends day. This is a time when we invite our friends and neighbors in the community to join us for a tailgate and some football. This is just one of our many events where we connect with the neighborhood and just have a good time.
A Community Facing Church
Crown of Life is a Church that loves our community. Throughout the year, we hold a variety of events open to everyone at any stage of their walk with Christ. From crawfish boils to service projects. Vacation Bible School to days in the Community Garden, we are sure there is something here for you!
Weekly Blog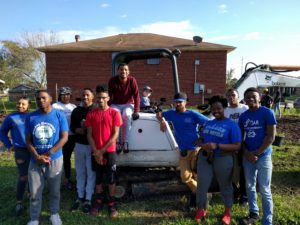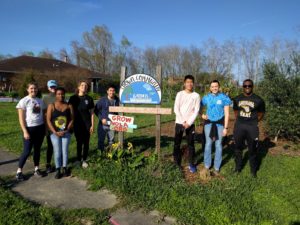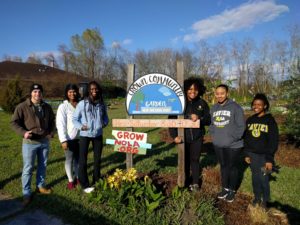 Xavier Language club, Tulane ROTC, Dillard Auxiliary Services, Omicron Lambda Omega, Kappa Alpha Psi all have something in common. They volunteer and they all came to the community garden to do it! We are only a small slice of volunteer bases so that tells you there are many more are spending their time productively helping complete strangers.
It's kind of new to me. From high school through grad school there were very few organized opportunities to serve. The philosophy was study hard and then after you're done with school your contribution to society can begin. That's definitely not the case today. I've had grade school age kids looking to fill their service hours. Increasingly educational institutions recognize learning can't happen in a vacuum, and perhaps that being generous with time and ability is a learned thing not an automatic thing.
Serving is a good thing. I would even say it's a Biblical thing. We are called to serve. Galatians 5:13 says, "You, my brothers, were called to be free. But do not use your freedom to indulge the sinful nature; rather, serve one another in love." Academic institutions get that to some degree. It isn't automatic, that's why it has to be commanded. The world is becoming so fiercely individualized that it increasingly has to be organized, and planned. The sinful nature can resort to such a self focus it can neglect everything around it in the name of self fulfillment. It's the other type of vacuum that sucks everything up for itself, it's time, it's resources, everything. Institutions know that's neither healthy nor sustainable.
We've been spiritually equipped (by the Spirit through sermons, Bible Study, devotions, etc.). By Christ's blood we are children of God alive with the Spirit learning what our new status means in life. Ephesians 2:10 tells us, "For we are God's workmanship, created in Christ Jesus to do good works, which God prepared in advance for us to do." It might feel unnatural to do it at times, and it might seem like a burden to do it, but that's because good works aren't automatic. They had to be given to us, prepared for us to do. The danger is that we can become Christians so equipped to understand the needs of the world, but never putting ourselves in a position where we can address those needs. There's the temptation to be like a spiritual strong man who would rather build his spiritual muscles to show them off, but become unconcerned or even annoyed with the weak who can't carry their own spiritual baggage.
There's no ambiguity about it. God did not put us on reserve for good works. He made you a productive part of God's Kingdom right now! In this individualized world, it may mean being intentional about serving, but use that God given strength to show the weak you are willing to meet them where their burdens have kept them.
Here's one opportunity to intentionally meet complete strangers. This Saturday the garden plans on preparing garden beds for growing.
You can see information here.
---