Christmas Day – Dec 25th
PJ's and hot chocolate are perfect comfort traditions for Christmas is a day, but if you're only in PJ's all day then you're missing out on the real comfort of Christmas.
Find the warmth of God's love for you and your kids this Christmas Day at 11:00. Then after you can go back home and put those PJ's right back on:)
When: Sundays 11:00am
Where: Crown of Life 11721 Morrison Rd.

Growing in Hope [Bible Class]
We could all use more hope, right? Discover Biblical hope and how growing in it will be a lasting blessing in your life!
Sundays 5:00pm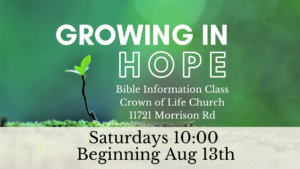 A Community Facing Church
Crown of Life is a Church that loves our community. Throughout the year, we hold a variety of events open to everyone at any stage of their walk with Christ. From crawfish boils to service projects. Vacation Bible School to days in the Community Garden, we are sure there is something here for you!