October 22nd – Fall Fest
Celebrate fall at Crown Community garden with activities, music, food and fun for families. Check out our natural play areas for kids and our community focused initiatives to build a better New Orleans East community.
When: 2:00-5:00pm
Where: Crown of Life 11721 Morrison Rd.

Growing in Hope [Bible Class]
We could all use more hope, right? Discover Biblical hope and how growing in it will be a lasting blessing in your life!
Saturdays 10:00 starting August 13th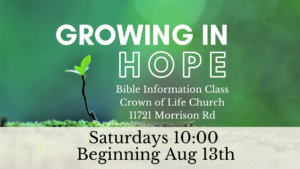 A Community Facing Church
Crown of Life is a Church that loves our community. Throughout the year, we hold a variety of events open to everyone at any stage of their walk with Christ. From crawfish boils to service projects. Vacation Bible School to days in the Community Garden, we are sure there is something here for you!