Highlights of the "every day life" at Crown of Life
The Inner Pup
Hot and crowded, yet somehow everyone (and every pup) was cool and organized. The Inner Pup, at the invitation of Dr. Beth Phelps, used our property to host a Low-Cost Heartworm clinic servicing 83 dogs from the Louisiana area. We got to meet many new faces in the community and share and invitation to join us at church. We pray this provides us with an opportunity to share the gospel with them in the future.
We thank God for:
– The Phelps and the Indests who made it out to help and reach out to the community
Let it Sparkle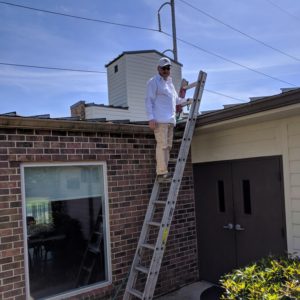 "Let it sparkle!" No, Bob Heier didn't say that but you can see he wants Crown of Life to sparkle. In his quest to do that Bob sprayed down and cleaned all the siding on the sanctuary and fellowship hall making it look fresh and new. No more green mildew or mud splatters, just siding being as beautiful as it can be. Also a big thanks to Bob for getting down on his hands and knees and scrubbing the men's bathroom floor and polishing the great room in the fellowship hall, work that has brought a bit more shine to Crown of Life.
We thank God for your servant-like spirit Bob.
Water is for outside
We're on the path to victory in our years long battle to prevent leaky walls in the sanctuary. After exhausting multiple theories in preventing the leaks, it became clear that the brick surfaces needed to be sealed to prevent rain water from leaking through the walls. Randy and Seth have been pressure washing all the bricks (in Greek that would be baptizmos) to help cut expenses before a masonry company comes in and makes the building water tight. Once completed, repairs to pew legs can be completed.
If you see them around tell them you appreciate them for baptizing our buildings:)
Some extra hospitality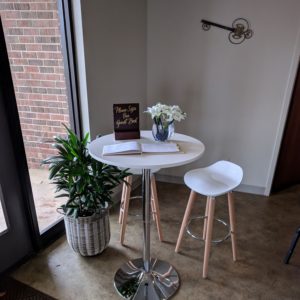 It always feels good to be welcomed especially if you are in an unfamiliar place. If you haven't noticed, there have been little things done to make a visitor's experience a little more refreshing and inviting. A little touch up paint on the walls in the fellowship hall cover the chips and dings that come with regular wear and tear, a new coffee maker, beautiful altar decorations and flowers for Palm Sunday and Easter, and even a new visitor's corner in the narthex that one might describe (I dare say) chic.
We thank God for all the energy and passion he has given Marta has put in to these projects.